Calendar - You can set the calendar to examine one day, one month, or up to a year at a time. You can choose any date you want, and even customize the exact number of days you want to see at once.
Specialization - You can set the program to examine only progressions or only transits. You can include any combination of planets or any aspects. So, for example, you might ask for interpretations which only include squares, conjunctions, or oppositions from transiting Saturn, Uranus, Neptune and Pluto.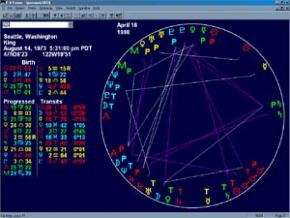 Wheel Formats - You can print single wheels, bi-wheels, and tri-wheels. Our unique system allows you to mix and match natal charts, progressions and transits to your own specifications.
Special Features - Like the Electronic Astrologer Reveals Your Horoscope, the EA Future module includes the keyword search feature and a dynamic cursor which allows you to examine areas of your chart with a single click. You can also set the program to examine aspects and interpretations which apply to particular life areas.
The Electronic Astrologer Reveals Your Future is only $69.95, and provides more material and standard-setting calculations at a lower price than other astrological software packages.