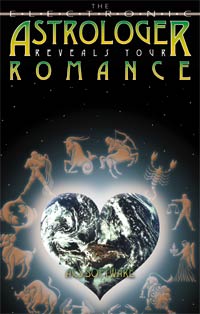 Is he my soulmate? Is she the one for me? This easy to use Windows program on analyzes and rates overall romantic compatibility and is written in a style that is easy to understand - even for those with no prior astrological knowledge. Simply enter birth data (date, location, time and gender) for yourself and your partner and you will instantly have all the information you need to help you make the best decisions about potential partners, or to enhance your existing relationships. Each report includes:

a two wheel chart to easily spot the "connections" between partners
a relationship grid which calculates scores for sexual sizzle, attraction, affection, togetherness, close comfort and an overall "Love Line"
detailed interpretations of how each couple handles issues of self-esteem, communication, love, assertion, sex, home and family.
birth data for numerous celebrities (you can even see how you would relate to Paul Newman, Drew Barrymore or Elvis!)

All prices are subject to change without notice.

Astro Communications Services, Inc.
5521 Ruffin Road San Diego, CA 92123
All material is copyright© 1996-2002 and may not be used without permission.